As a holistic nutritionist and clean eating enthusiast, I'm constantly on the prowl for portable, convenient, clean, nutritious and tasty snacks to recommend to my busy clients. The convenient aspect has never been hard to find, but with the list of criteria I use to choose what I eat and recommend, the search is often challenging. Thankfully the growing demand by consumers for food brands and manufacturers to be more transparent about how their products are sourced and manufactured, has made my search for packaged edibles with whole food ingredients much easier.
Here are my top 5 favorite snack foods of 2019.
1. Steve's PaleoGoods, PaleoKrunch Bar: This gem is not new on the market, but in 2019 my search for nutrient rich, low carb snacks expanded, as my utilization of LCHF (low carb, high fat) and cyclical ketogenic dietary protocols increased. This whole food ingredient granola bar literally contains only shredded coconut, raw pumpkin seeds, raw sunflower seeds, raw almonds and a touch of honey. It can be enjoyed as a light breakfast, an afternoon snack or dessert. They make a variety of different flavors, so consider trying them all!
2. SuperFat: One of the absolute best tasting nut butter formulations out there. With the popularity of LCHF and keto diets taking hold, a number of companies have come out with nut butter snack packets with creative flavors profiles, like chocolate, vanilla and cinnamon, to name a few. SuperFat gets my vote for 2 main reasons: their clever packaging with a screw on lid so you can reseal your pouch in case you don't eat it all at once and all 5 of their flavor combos are delicious. My favorite is the coffee + mct oil. It's a blend of macadamia and almond butter, enhanced with some mct oil and freeze dried coffee. The coffee flavor is nice and robust and gives you a nice subtle energy boost when eaten write out of the pouch or on top of a cinnilla Keto-Snaps, my favorite combo (wink emoji). OK, here's a 3rd thing I like about Superfat over some of its competitors; no added sugar or fruit (dates). The name suits this product perfectly!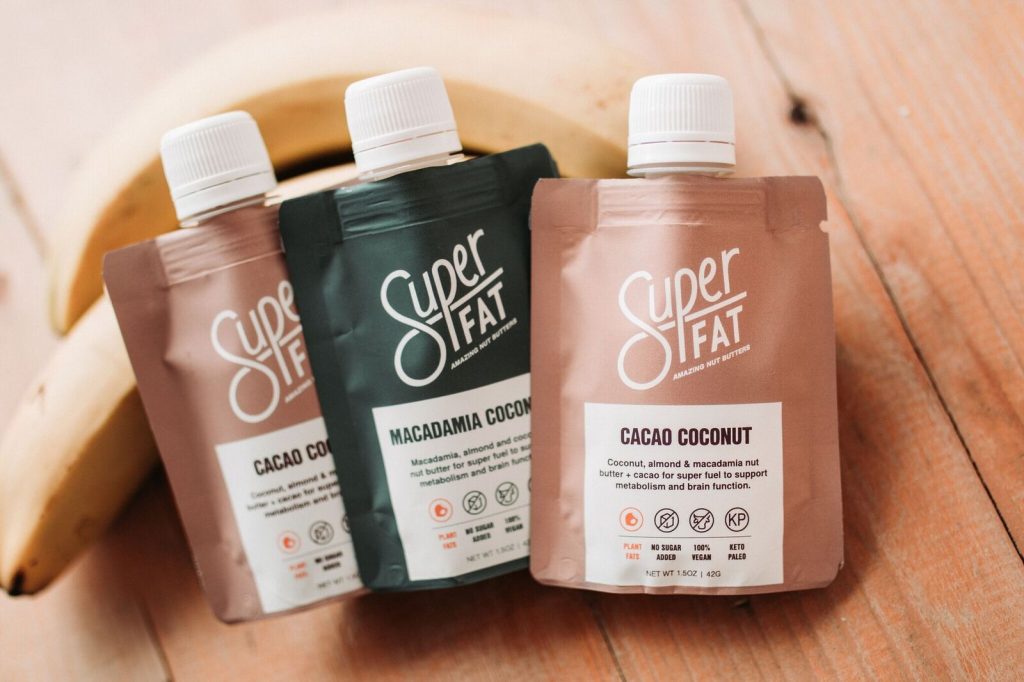 3. UNReal: This incredible candy brand is the brilliant creation of 2 twenty something brothers, Nicky and Kris, whos parents protected them from processed, traditional candy growing up. Poor them? Not so much. That childhood experience inspired them to make a line of vegan, low sugar, fair trade and absolutely delicious candies that mimic your childhood favorites. The dark chocolate peanut butter cups taste like a gourmet version of the more popular version we all grew up with. I have yet to try their new chocolate coconut bar, but one of my clients already confirmed that it's just like, if not better than a Mounds bar. Eating candy never tasted or felt this good.
4. Pili Nuts: If you haven't heard of pili nuts yet, I'm sure you will soon. These nuts are native to Southeast Asia, Papua New Guinea, and Northern Australia, but in the past few years, have been gaining popularity in this part of the world, as the interest in low carb and ketogenic lifestyles continues to grow. These little nuts contain more healthy fats and less carbs than macadamia nuts.Pili nuts have a buttery texture and taste like a cross between almonds and cashews. They're rich in omega 3 fats, contain all 8 essential amino acids and are loaded with vitamins and minerals, like magnesium, potassium and calcium. No wonder this holistic nutritionist added them to her top 5 snack list. They're a win-win on taste and nutritional value!
5. OWYN Shakes: These 100% plant-based protein shakes are one of the best pre-made shakes I've come across in years. The name is short for 'Only What You Need' and the product fits this description perfectly. Not only is it free of gluten, dairy, chemical fillers, gums and artificial ingredients, but one 12 oz bottle provides 20 grams of protein, a nutritious blend of greens, omega 3 fats and only 4 grams of sugar. With my client's busy schedules, these have been an excellent solution as a light meal on the go or a pre or post workout source of fuel. The dark chocolate seems to be the most popular flavor, but try them all. You won't be disappointed.
Convenience and nutrition (+ great taste) can go hand-in-hand!